Today on the Adiamor blog, we are welcoming a new series on finding the perfect engagement ring. Since an engagement is a once in a lifetime event, it's important to pick the right diamond ring for the occasion. However, with so many different engagement setting options on the market, choosing can be overwhelming. That's how we can help. In the following posts, we'll cover the various ring setting options to help you decide on the perfect ring. Today, we're covering split shank engagement rings.
What Are Split Shank Engagement Rings?
Split shank rings feature a ring band that forks to beautifully twist around the ring and showcase the center stone. In most cases, split shank engagement rings feature diamonds, and split shank rings look gorgeous with nearly every diamond shape available. For smaller center stones, some encircle the diamond with a decorative diamond halo as seen here in our Split Shank Halo Setting for Cushion Cut Diamond.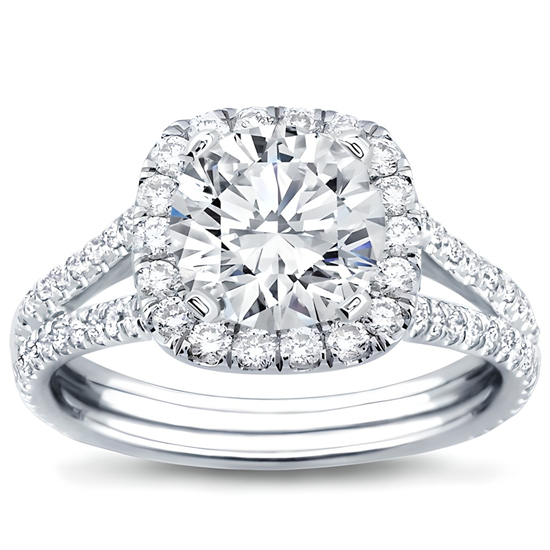 Split Shank Engagement Ring Metal Options
With most engagement rings, there are four primary ring metal options: yellow gold, white gold, rose gold, and platinum. Since platinum engagement rings are made from only the purest alloys featuring 95% platinum, there are no other choices to make. However, gold rings are available in both 14k and 18k options. Higher karats will have higher quantities of gold, but they will also be softer rings. This means 14 karat rings will have more durable settings, which is important when considering whether or not to include diamonds on the band of your split shank engagement ring.
When it comes to the different colors of gold, this is primarily a matter of personal preference. Yellow gold is the most traditional, and it also compliments the fire and brilliance of white diamonds. White gold offers elegance and sleek sophistication similar to platinum, but at a lower price point. Finally, rose gold has ancient history as a preferred ring metal, and its resurgence in popularity with millennials proves its pinkish hues to be a timeless, romantic choice.
Diamonds Or Plain Band?
The final option in selecting the perfect split shank engagement setting is deciding on how the ring band is adorned. For ring buyers searching for maximum sparkle, select a ring with diamonds pave-set on the band. This style will generally be found accompanying halo set rings as well. However, many people prefer the center stone to be the star, and that's why they choose split shank engagement rings in the first place. In this case, selecting a plain diamond band is the best choice. It pulls attention directly to diamond. This makes a plain band a great option when pairing a split shank engagement ring with a larger diamond.
Still not sure where to start? Visit the Adiamor Engagement Guide to learn more. Ready to pick out your perfect ring? Start shopping for split shank engagement settings today!